Saturday, September 19, 2009

It's that time of the year again. International Talk Like a Pirate Day is upon us again. September 19th, every year.
There's a lot going on again this year, so here's a few links to get you started:
World of Warcraft Pirate's Day
Xbox Live Allnighter – Playing Age of Booty, The Secret of Monkey Island , Sid Meier's Pirates!, and Pirates vs. Ninjas Dodgeball
Eve Online – Unfortunately I wasn't able to find any specific events for today, but hey the game is full of pirates already! http://www.eve-pirate.com/
Pirate Songs – Chanteys for Modern Pirates
Be sure to check out the official page for lots more links!
Also.  A Comic and video for you to enjoy: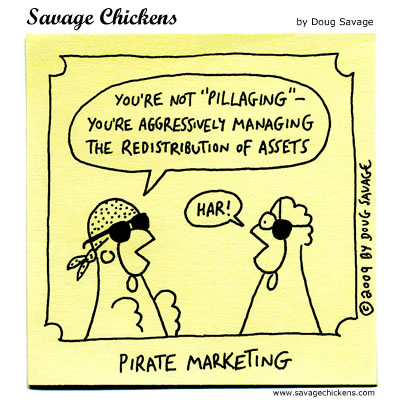 Ye scurvy doggs have fun!
-Cap'n Guideon Leadblade
Discover and Share
Comments Off on International Talk Like A Pirate Day [ITLAPD]